(。◕‿◕。)
Hi welcome! This is my eighth blog post! In this blog post, I will be talking about an anime called Doraemon!
Here is a brief summary before you start reading the blog post! "Synopsis. Doraemon, a cat robot from the 22nd century, is sent to take care of Nobita Nobi by Sewashi Nobi, Nobita's future grandson, so that his descendants can get a better life. … Doraemon's gadgets help Nobita overcome the troubles, and they end up developing a relationship with each other."
The main characters in the anime are : Doraemon, Nobita Nobi, Suneo Honekawa, Shizuka Minamoto, Takeshi Goda, Tamako Nobi,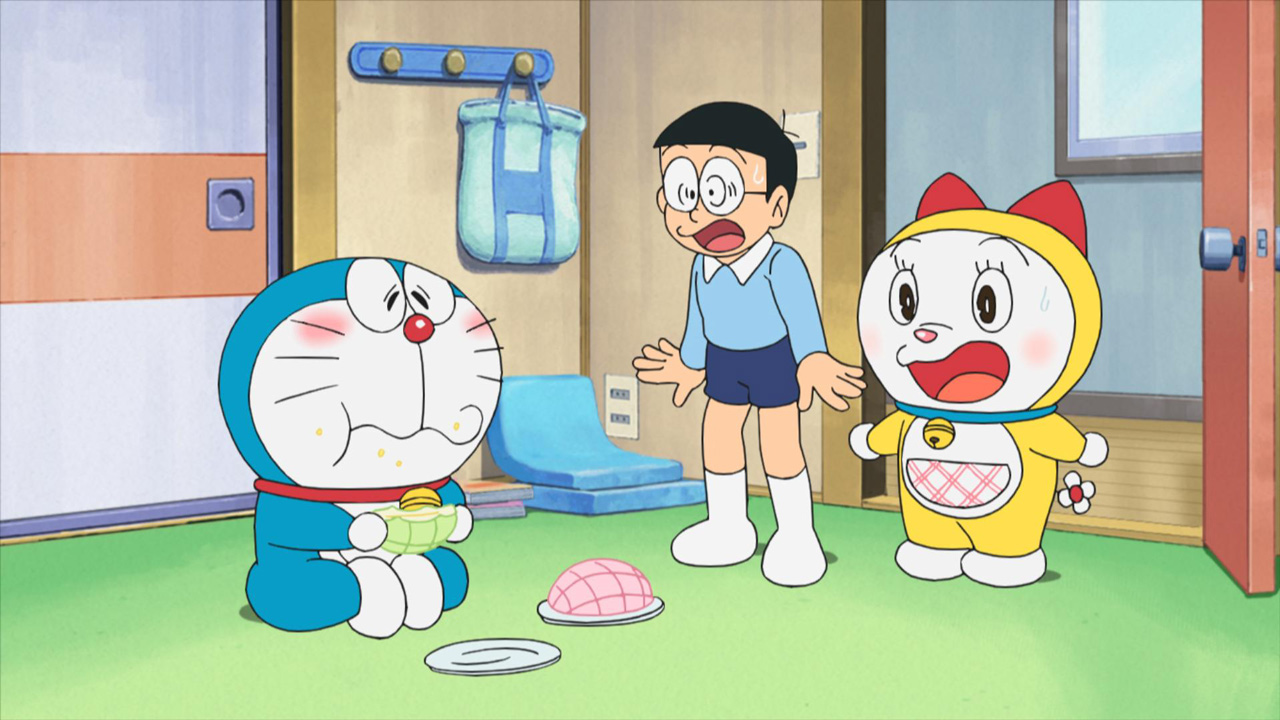 (spoiler alert! from now on the blog is going to talk about what happens in the anime! if you are interested in watching and don't want spoilers then you shouldn't read any further!)
Nobita is a complete loser at school, and he gets bullied a lot by Takeshi and Sunreo. He isn't good at anything related to school. He isn't good at sports, nor is he smart. So every time his class has a quiz, he would fail. Takeshi and Sunreo like to play baseball a lot, and when they do play, they invite Nobita to play too, but they say if Nobita fails at helping them win the game, Nobita would get beat up. So when the baseball game is about to start, Nobita runs home to ask Doraemon if he could borrow one of Doraemon's gadgets to help Nobita win their baseball game because Nobita knows he wouldn't win.
The only reason that Doraemon is here to help is that his job is to make sure Nobita has a better life in the future. Nobita likes to rely on Doraemon most of the time because he thinks that Doraemon will stay by his side forever so he wouldn't have to worry about anything ever again. There are some times where Nobita tries by himself without trying to get Doraemon to help because he soon found out Doraemon would have to leave his side soon and he would have to go on his own without asking for help every day.
Doraemon has 1,787 episodes in all.
Everyone knows that Doraemon is not an alien or a human being he is a robot. He knows that Nobita likes to use his gadgets not to help his future but to use it for his own good, so Doraemon tries his best to find ways where Nobita can rely on himself more. Nobita also likes this girl and her name is Shizuka. Shizuka is a really nice and pretty girl, and Nobita also likes to act tough in front of her so it could maybe higher his chance of her liking him.
Doraemon was originally a robot that looked like a cat. The reason that he doesn't have cat ears anymore is because when he was sleeping (in my memory) multiple rats/mouse climbed onto his head and bit his ears off. This is the reason why Doraemon will never go near another rat/mouse. He also used to be yellow, but after he lost his ears he cried so much to the fact his tears covered him in it like an ocean then when the tears went away he was blue.
Thats it for today's blog post! I hope you enjoyed it because Doraemon is one of my favorite animes!